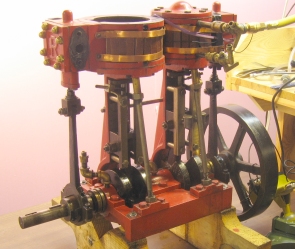 We are pleased to present our current line of steam power equipment. Reliable Steam Engine Co. has been in business since 1962. We offer the largest and most varied line of steam power equipment from a single manufacturer. We take great pride in offering these items to the individual who would like something different; which will be much admired and will have long-lasting value. The photograph to the right shows the Reliable 5 HP Compound - Serial Number 1, owned by Earl Morse of Waterford, Maine - undergoing winter maintenance. This is the first engine introduced by the company nearly fifty years ago and is still the most popular design.
NEW ITEMS: We will be adding new designs and plans from time to time: we will soon have a design for KATY - a beautiful, shallow draft, trailerable sternwheeler as visualized by Tommy Thompson back in the early 1960s - complete with traditional, horizontal, long stroke sternwheel engines. So bookmark this page and come back often.
PLANS: To aid you in designing your installation we offer several schematic drawings. These give general principles and show the various parts which you may use to complete your system. They illustrate basic ideas of piping, valves, pumps, and the approximate locations of these items in boat or car. They are valuable guides to your planning. We suggest you purchase what you feel are appropriate schematics and other plans - boat, engine, &c. - for your projected plant. Our plans and drawings - where needed - come with detail sheets, parts list, and machining tips. After reviewing these you will be able to better determine your needs and desires before purchasing the components from us.
FORMAT: We offer our plans and schematics as a .pdf file via email. After you receive your order, you may view it on your computer using Adobe Acrobat Reader. If you want full size blueprints, email or take a copy of your file to your nearest copy center. Most of our customers prefer this method due to its speed. We have discontinued selling plans and schematics as paper copy.
QUALITY: All mechanical equipment is designed by us and is made in the USA. Reliable boilers and steam generators are designed to A.S.M.E. (American Society of Mechanical Engineers) Code Rules for fired pressure vessels, and are built to high quality standards with best specification materials. Our castings are warranted free from material defects. Any casting showing defects during machining will be replaced at no charge if returned within six months of sale. Casting kits are always in stock. Our castings come in batches, so sometimes your requirements are ready to ship, and other times may require 8 to 10 weeks for delivery.
PAYMENT: In addition to the traditional method of payment by check or money order, we now accept on-line credit card payment for our PLANS and SCHEMATICS. We use PayPal as our credit card processing service. On all other items we accept payment by money order or check. On completed engines - when available - we require 1/2 down payment with your order, and the balance before shipment. ALL PRICES ARE IN U.S. FUNDS !
SHIPPING: We now ship our plans and schematics via email, eliminating any shipping charge for these items. Schematics and plans are shipped promptly on receipt of your payment to the email address you provide with the order. Castings and completed engines are shipped F.O.B..
COPYRIGHT: Reliable drawings and equipment are sold for private ( non-commercial ) use by the purchaser. Federal copyrights and commercial usage rights are expressly retained by Reliable Steam Engine Co.
We will be pleased to be of service.
Sincerely,
RELIABLE STEAM ENGINE CO.



PETER CARLICH